Beschrijving
Het proefpakket bestaat momenteel uit drie pakken Specialty Milk vers en drie pakken Specialty Milk UHT én onze limited edition Queens of Dairy tas.
Wij leveren deze barista melk exclusief aan de zakelijke markt en rechtstreeks voor/aan de deur. De reden dat we een kleine vergoeding voor het proefpakket vragen is dat wij de drempel iets hoger maken, zodat er ook een bewuste keuze gemaakt wordt bij het bestellen van het proefpakket. De boer gaat immers de melk produceren, de transporteur zet de melk rechtstreeks voor de deur en er gaat dan mee getest worden. Wij willen verspilling en onnodig vervoeren van proefpakketten voorkomen.
Wil je het liefst eerst persoonlijk contact voordat je een proefpakket aanvraagt? Bel dan naar 073-7119311 of stuur een mail naar info@queensofdairy.nl. Wij staan je graag te woord.
Ons bezorggebied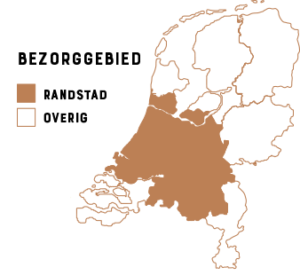 Randstad: minimaal 24 liter per levering
Overig: minimaal 48 liter per levering